Thank you for visiting this website! Use the menu bar above to learn more about Matthew Faulks

For more information contact me with the information listed below:

Matthew Faulks
Attorney at Law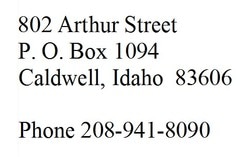 Whether you are facing sudden legal problems or preparing yourself or your business to comply with an increasingly complex legal world you can contact the Law Office of Matthew Faulks. Serving the Southwest Idaho region on legal matters ranging across custody, divorce, guardianships, wills, probates, criminal and traffic defense, property, and a variety of business transactions.

Please call for an appointment.



© 2017